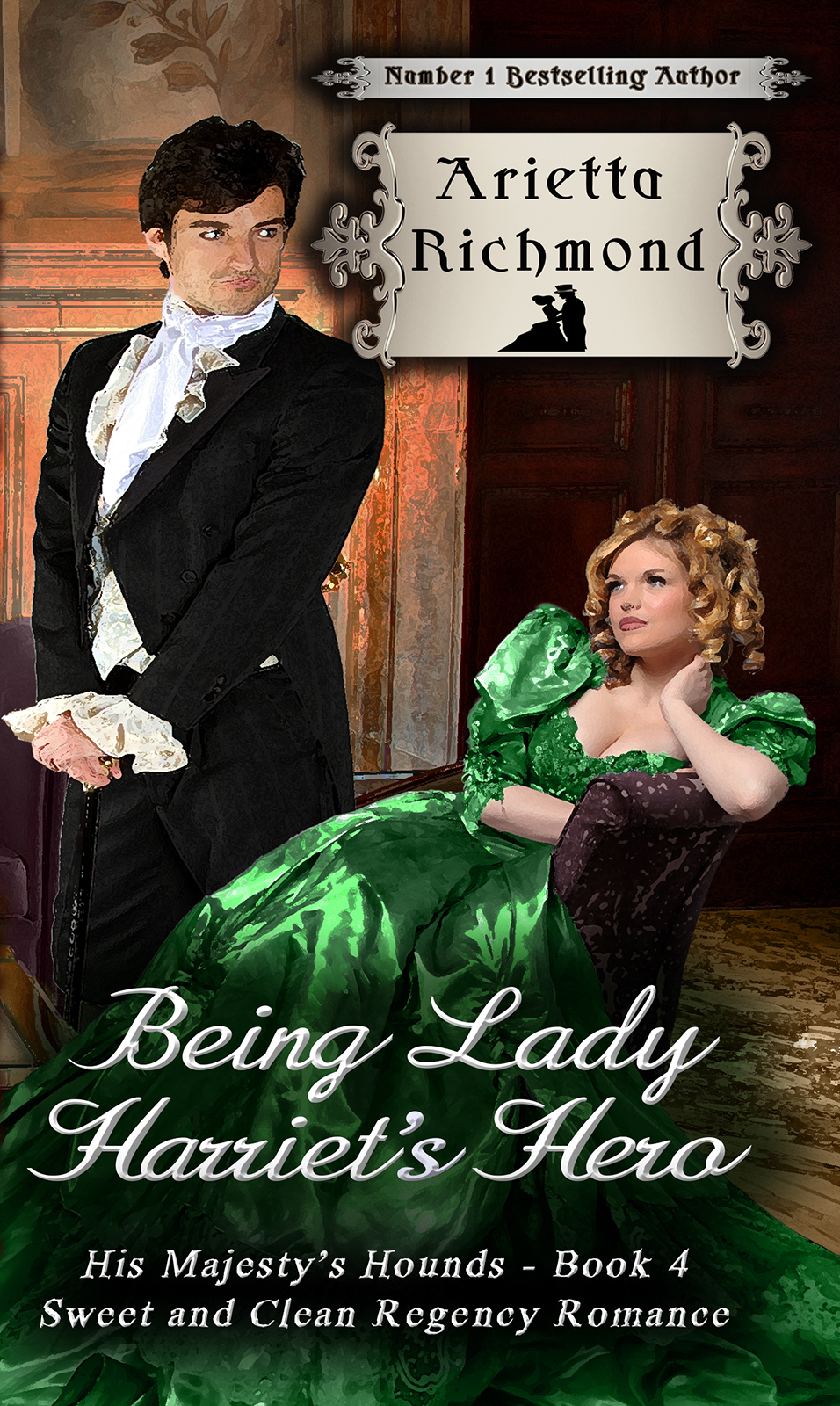 A determined Lady, a handsome Lord, a treasonous plot, a daring rescue, an enduring love. ***FREE ON KINDLE UNLIMITED*** From Award winning author, Arietta Richmond.
Lord Geoffrey Clarence heroically saved the life of his best friend, Charlton Edgeworth, Viscount Pendholm, and six other people. He was then recruited to work covertly, in defence of crown and country – which resulted in the Prince Regent gifting him a substantial estate. Unfortunately, it came with a dangerous mission as a side 'benefit'.
Lady Harriet Edgeworth decided, at first sight of Lord Geoffrey, that he was the man for her, her hero. In the year since, nothing has changed her mind. When Lord Geoffrey moves to an estate close to her home, she is delighted, and soon finds a way to volunteer to assist with the inventory of his new property.
Can Lord Geoffrey keep his mission secret, with Lady Harriet there every day? Can Lady Harriet convince Lord Geoffrey to see her as a woman, not just Charlton's sister? And, if he does, can he keep her safe in the midst of a treasonous conspiracy?
This book won a Pinnacle Book award for best romance book in Fall 2017
Read the rest of the series!
Claiming the Heart of a Duke
Intriguing the Viscount
Giving a Heart of Lace
Being Lady Harriet's Hero
Enchanting the Duke
Redeeming the Marquess
Finding the Duke's Heir
Winning the Merchant Earl
Healing Lord Barton
Kissing the Duke of Hearts
Loving the Bitter Baron
Falling for the Earl
Rescuing the Countess (coming soon)
Betting on a Lady's Heart (coming soon)
Attracting the Spymaster (coming soon)
Restoring the Earl's Honour (coming soon)
If you love Regency romance, great historical romance, and stories with great characters, you'll love these !
Order Now!
Other Book Listing in "His Majesty's Hounds"
Disclosure of Material Connection: Some of the links in the page above are "affiliate links." This means if you click on the link and purchase the item, I will receive an affiliate commission. I am disclosing this in accordance with the Federal Trade Commission's
16 CFR, Part 255
: "Guides Concerning the Use of Endorsements and Testimonials in Advertising."