Book Four of The Derbyshire Set, The Count's Impetuous Seduction, was released on 21 February, so if you haven't had a chance to grab it yet, make sure that you do so while it's still on the 99c launch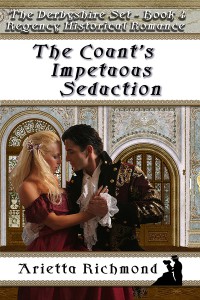 special! Book Four is Charlotte's story (she's the sister of Blanchette who is the heroine of Book Two), and introduces some other characters that you will meet again in later books!
Book Five, The Rake's Unlikely Redemption, will follow soon – it's currently in the late stages of editing! You can read a teaser of Book Five at the end of Book Four. Book Five is James Blackwood's story.  We last saw Mr Blackwood in Book Two, where he was rather badly behaved – read Book Five to find out what happens in his life following those somewhat dramatic events.
Book Six, The Marquess' Scandalous Mistress, will follow soon – I am halfway through finalising it now! It features some characters that you have already met – some from book three, and one from Book Four – for now, I'll leave you to guess who that might be.
Who are your favourite characters? Which characters would you like to know more about?  Let me know, and perhaps you will see their story told in a future book!